Mama Tulia is a Non-profit Organization dedicated to working with vulnerable mothers of premature babies by transforming the lives of both the mothers and preemies through providing for their physical, economical, spiritual and emotional needs. Our highest priority is increasing the survival of premature babies by providing a better and safer living environment for them to grow and live life to its fullest just like other children who were born at the right time. We aim to show the society that it's not a curse or witchcraft to give birth to a premature baby, as it is highly considered in Uganda, but every child is a gift from God whether born on time or way too early.
Mama Tulia is made up of three ministries: serving the pregnant mom, partnering with a preemie mother and Yuka's Heart for premature babies. The pregnant mom ministry aims to prepare the mother for a safe delivery while educating them on prevention practices for prematurity. The ministry of the preemie mom is to partner with the mother of a preterm baby through offering direct assistance. Lastly, the premature baby ministry (Yuka's Heart) aims to decrease the preterm baby mortality rate one baby at a time.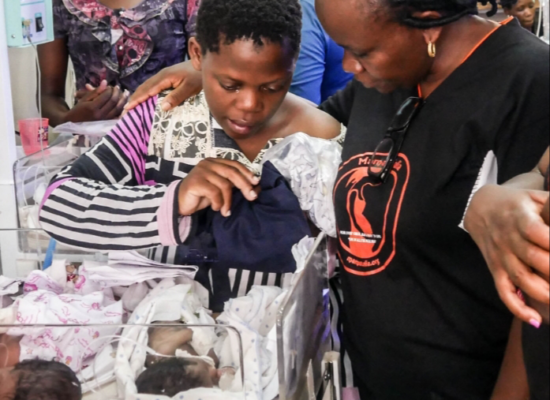 Mama Tulia Ministries was started in 2017 during a time when the number of preterm babies dying was rapidly increasing while the awareness about the issue remained low. Mama Tulia comes from a Swahili word, "Mother take Heart". It was started by Isabelle Furaha after her personal experience of giving birth to two premature babies in 2014 and 2016. Isabelle and her husband Peter lost their first premature baby in 2014 shortly after birth. In 2016 they were blessed with another baby who was also born prematurely. In fear of losing another preterm baby, Isabelle constantly prayed to God to save this one and God was faithful in answering her prayers. After several weeks in the hospital, she was able to bring her baby home. From these two premature birth experiences, Isabelle felt led to start a ministry for mothers. A year later, in June 2017, Isabelle decided to start supporting vulnerable mothers with premature babies. She decided to do this by creating awareness, educating, and supporting mothers.
"To support vulnerable mothers with premature babies by providing for their physical, economical, spiritual and health needs by building a healthy environment for the premature babies to grow and live life to the fullest".
"To reduce preterm deaths by increasing survival chances of premature babies in Uganda with informed and supported mothers".